"
The spring was remarkable. In all my years at Minnedosa I had never seen water still running/consolidating on the landscape like it was in June 2022.
Editor's note: For more than 50 years, DUC's emeritus scientist and renowned canvasback expert, Mike Anderson, has followed transects (fixed paths that observers can follow to count and record things) established by U.S. Fish & Wildlife Service (USFWS) biologist Jerome Stoudt to track these ducks on their breeding grounds in southwest Manitoba. This spring Anderson conducted his survey on May 16-17, later than normal due to spring storms. Here's his firsthand account of the habitat and birds he encountered (edited for length).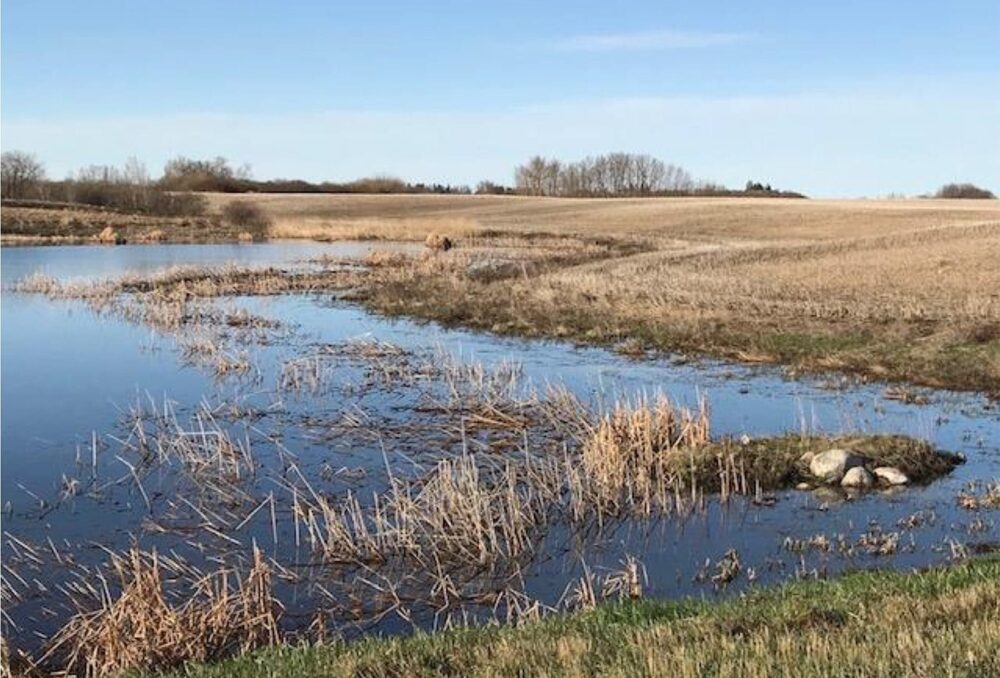 Spring 2022 headline: Water!
The headline story for this spring on the Stoudt transects was water on the move. After four consecutive weekends with Colorado Lows bludgeoning Southern Manitoba, twice with heavy wet snow and twice with wind and rain, the water was still seeking equilibrium. I don't recall ever seeing this much widespread movement of water as this year; it is more typically a thing seen on a small scale after a heavy thunderstorm. Over three days in the area we saw no tractors in fields, nor any evidence of spring tillage. For farmers, it was a late spring indeed.
Wetlands were mostly full. However, pond conditions varied depending on their position on the landscape. And for birds that nest in emergent cover over water, the value of the pond also depends on vegetation growth last year, any burning or tilling that occurred in the fall of 2021, or in some cases excessive water this spring.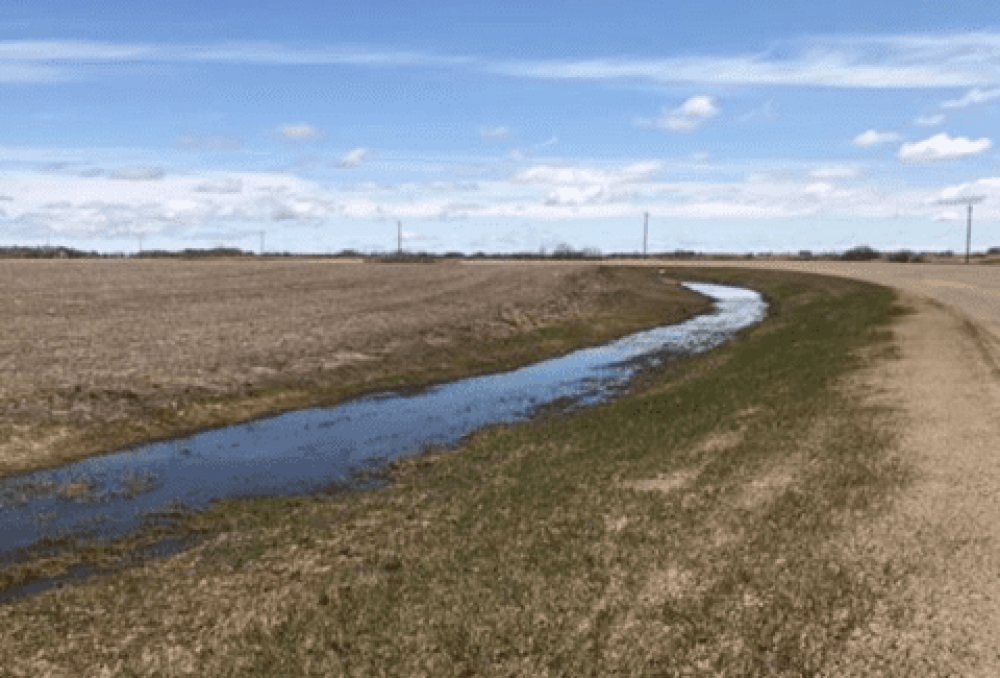 Drainage

moves water to roadside ponds and ditches
Everywhere we went, we saw ditches, or gently sculpted field contours, directing water toward roadside ponds. On this perched moraine, where moving water entirely off the landscape is difficult, or affects neighbours, drainage ditches are dug to merge water in larger interior ponds, or especially to move water toward roadside ponds at the periphery of fields This, of course, changes the nature of those receiving wetlands as well as the drained ones. It can also systematically inflate pair counts of diving ducks derived from roadside transects unless wetland abundance is accounted for.  
Each year I try to sum up habitat conditions in a simple index…a fool's errand perhaps but still I do it. On a suitability scale of 5 = excellent, 4 = good, 3 = fair, 2 = poor and 1 = forget it!, I score the habitat for divers this spring 4.5 (<2 last year). Why not 5? Because high water levels in some ponds diminish nesting cover and the availability of some plant foods like sago pondweed.
General observations of breeding waterfowl 
Although canvasbacks and redheads arrived later than normal this spring, nesting was clearly underway. Birds were well distributed as pairs, lone drakes, and small groups of pairs. We found only one flock of likely unpaired birds. I anticipated a strong first nesting effort by both species, and a strong renesting effort as well for those who failed early. Most returning canvasback hens are likely adult birds as production last year in this area was low. Flooded cover was extensive, so good nest survival seemed likely. We flushed a handful of mallard hens from flooded emergent cover too; other ducks would likely benefit from these conditions as well.
Lone-male canvasbacks with a pair or two of redheads were common on small well-flooded cattail ponds, a reliable signal of can hens either prospecting or laying eggs with redheads exploring parasitic laying opportunities.
Small groups (2-4) of mallard males were common across the area indicating a strong nesting effort was underway. Large numbers of blue-winged teal, northern shoveler and gadwall were also present – mostly dispersed, but some still in small groups of pairs. Green-winged teal and American wigeon were also present. We saw no northern pintails although we heard reports of many pintails in flooded pasture lands north and west of Minnedosa.
Lesser scaup were the most common diving duck in the area, some in pairs but more in small flocks. As has been true over the last three decades or so, ring-necked ducks continue to slowly increase in this region. Buffleheads were common too.  Unlike last year, abundant ruddy ducks were dispersed, not flocked, and preparing to breed.
Canada geese were widespread, though usually in pairs, which were seen far more often than lone birds or birds on nests. We were disappointed not to see trumpeter swans on transect this year after hopeful observations in the recent past.
Continuing a pattern of the last 10-15 years, red-necked grebes were very abundant on medium-to-large-sized ponds. This species was rare here in the 1970-1980s but are now ubiquitous. Pied-billed grebes were the next most common grebes this week, followed by a handful of horned grebes.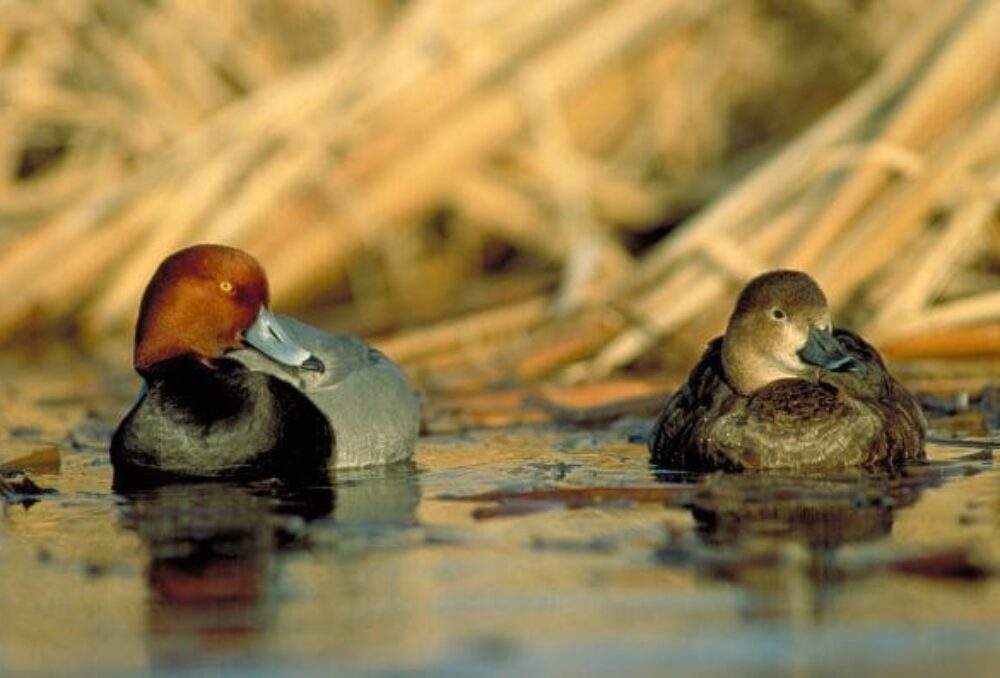 Canvasback and redhead duck trends
With a long-term data set like this, interesting trends can emerge.  For example, redhead pair densities have roughly doubled since the 1960s and 1970s while canvasback numbers have diminished by about 30%.  In the past decade, for the only time in half a century, redheads have outnumbered canvasbacks. We aren't certain why this change has occurred, but we do know that the incidence of parasitic redhead eggs laid in canvasback nests has increased over time.  Habitat suitability for the birds may have changed as well. New studies by university scientists are underway to try to understand better this species shift.
The Stoudt transects: A history
In 1961 Jerome Stoudt, a biologist with the USFWS arrived at Minnedosa, Man. to begin a study on canvasback population trends, productivity, and habitat use. Canvasback numbers had been estimated at 746,000 in the 1958 continental spring survey, but by 1961 estimates had dropped to 435,000 and by 1962, 360,000, the lowest ever. Canvasback hunting was closed in the United States and many people were worried about the future of the species.
Jerry established a study area in the private farmlands south of Minnedosa where he and his assistants, on two legs or four, counted canvasbacks and redheads, searched for, and followed the fates of nests, characterized habitat conditions and more. This area was recognized as among the best breeding habitat for these species.
His study ended after the 1972 season but David Trauger, Jerry Serie and others from Northern Prairie Wildlife Research Center continued the Stoudt transects as part of a larger study of age-related productivity in canvasbacks based on individually marked birds.  They converted the Stoudt transects into a weekly roadside indexing of canvasback and redhead populations that provided helpful information on bird densities, progress of the nesting season, productivity and opportunities to read nasal saddles. These "Roadsides" were run each year from mid-April through early August.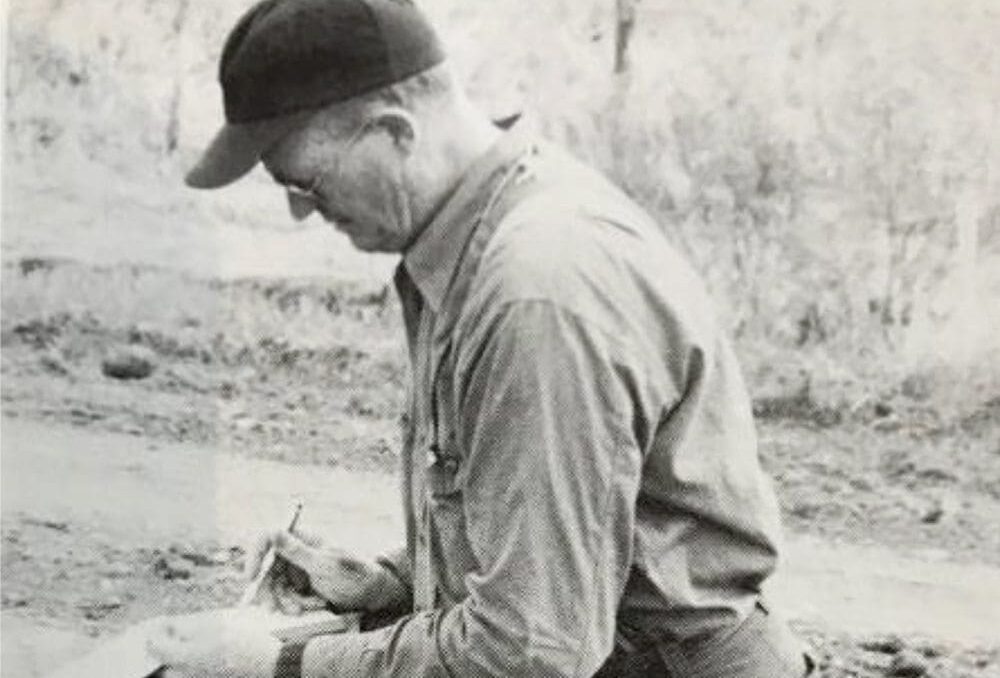 I first assisted Jerry briefly in 1972. I n 1975 I began my doctoral work there on canvasback social behaviour, sponsored by Delta Waterfowl and the University of Minnesota, and I began to help occasionally with the Roadside surveys. After the USFWS crew finished their studies in 1979, I inherited the Stoudt transects and after missing 1980, resumed the weekly routes through 1990 as part of Delta's continuing canvasback research at Minnedosa. The length of the transect was expanded slightly at that point to encompass all my study areas, but Jerry's original route remained the core of the route.
After moving to DUC in 1990, I continued the breeding pair surveys once or twice/year for most years but there were some gaps in the late 1990s and early 2000s as life intervened. Since retiring in 2013, I have continued to run the transects once annually, in early to mid-May. The 2022 season marks my 51st spring at Minnedosa and 61 years since Jerry Stoudt first counted diving ducks  on this route.
Sign up for the latest conservation news
Be among the first to hear about habitat conditions from our field reporters and official breeding population survey results every summer.
Stay informed